Dusting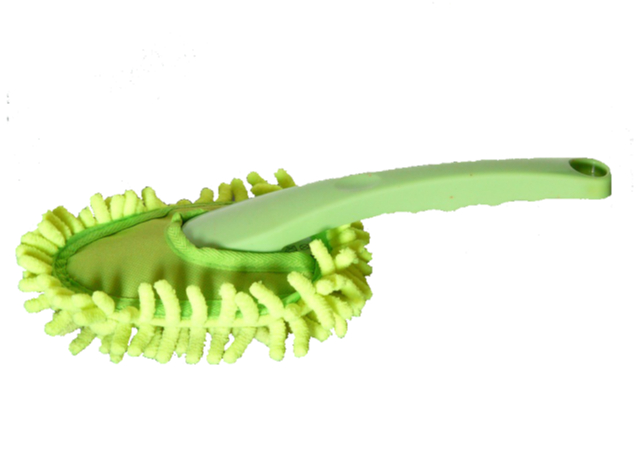 Dusting Tools
There are many different dusting tools out there that can be used for dusting but they are basically broken down into the two types listed below.
Dry Dusting
A simple dry duster relies on rubbing against surfaces and just catching dust that it rubs against. This sounds like a completely ineffective way of removing dust but it does work remarkably well and is faster as compared to the damp dusting method. Dry dusting works best when humidity is lower and some static can build on the duster surfaces. In between extremes of short dusting period (1 week) and a large dusting interval (1 month), the simple dry wand duster does a fairly good job of removing dust, especially if you wipe it off on a rag once in a while.
Damp Dusting
Damp dusting is were you use a damp cloth which can do a better job at times but it can also consume more time and make mud of the dust particles on surfaces. Usually the damp method works both with short intervals where no dust has a chance to build to the point where you start to make mud and also when the dust is very heavy so that you can rinse the dust out of the rag, wring it very well and be able to continue dusting.
Dusting Methods
Always try to start dusting by doing the highest places first. That way any dust that settles might be caught when dusting the lower items. Dusting order could go something like this: ceiling fans, tops of cabinets, blinds, tops of door frames and the top of the doors themselves, tall lamps, shorter lamps, windowsills, bed frames, dressers, wood furniture, all the way down to chairs and even the rockers on rocking chairs along with mop-boards. You will probably need a long reach duster for things like ceiling fans and double height foyers / entryways. Long reach dusters can also be used on items near the floor like mop-boards so you don't need to bend or crawl around on your hands and knees to get to them! When done with the entire house, go back through and use some furniture polish on your favorite wood furniture pieces and desktops.
In addition to removing finger prints and making wood shine, furniture polish also does the following:
The applicator (a cloth rag) is somewhat damp and catches more dust particles while applying the polish.
Because furniture polish dries to a slippery finsih, it help to keep dust from settling on the polished surfaces.
Also because a polished surface is more slippery, the dust that does settle is more easily removed the next time you dust.
Whatever method you choose for dusting, regular dusting is an important part of cleaning your home. Many things effect how much dust a house has like pets, how often you vacuum / clean floors, the number of people living in the home, what type and how often you change your HAVC (Heat, Air Ventilation, and Cooling) system. Removing dust can help to alleviate allergies and makes for a more comfortable home.