Old fashioned Ham Recipes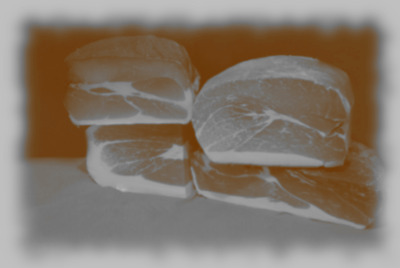 Cooked Ham
Boil it three or four hours, according to the size, then skin it and place in the oven for half an hour, then cover with bread crumbs and replace in the oven for another half hour. Boiled ham is always improved by heating in an oven until much of the fat is cooked out.
Boiled Ham
Ham should be put into cold water to boil; if it is very salt, the water should be changed just after it begins to boil. A pint of good vinegar added to the water improves the ham very much. When boiled tender, remove the skin and, if desired, cut off some of the fat. It may be set in an oven fdr a while, or not, just as the taste dictates. If set on the table whole, a few cloves stuck here and there, give it a pretty appearance. Garnish with celery tops or sprigs of parsley.
Steamed Ham
Lay in cold water for twelve hours, scrape and wash thoroughly. Place a steamer over a pot of boiling water, put in the ham and cover closely; keep the water boiling all the time; allow twenty-five minutes steaming for each pound of meat. Skin while hot.
Glazed Ham
The ham should be a cold boiled one, from which the skin was removed when hot. Cover the ham all over with beaten egg make a thick paste of cream, pounded cracker, salt and a teaspoonful of melted butter. Spread this evenly over the ham and brown in a moderate oven.
Broiled Ham
If very salty, soak the slices in lukewarm water half an hour, then take them out, cut off the rind and broil quickly over hot coals. If cooked slowly, it will harden.
Fried Ham
If too salty, put the slices in cold water in the frying-pan, let it come to a boil, turn it off and fry the ham quickly, turning often.
Ham & Eggs
Fry the ham quickly; 'remove from the pan as soon as done. Drop the eggs, one at a time, into the hot fat; be careful not to let the yolks break and run, and keep the eggs as much separated as possible, to preserve their shape. The ham should be cut in pieces the right size to serve and, when the eggs are done, one should be laid on each piece of ham. If any eggs remain, they can be placed uniformly on the edge of the platter.
Warming Ham
Take any pieces of cold boiled or fried ham, chop them with bread and put the mixture into the stew-pan. When it is hot, break into it one or two eggs, according to the quantity; season with pepper and salt to the taste. Stir constantly after breaking in the eggs, and serve as soon as the eggs are sufficiently cooked.
Ham Toast
Chop some lean boiled ham fine, put it in a pan with a little pepper and a lump of butter; when quite hot stir in two well beaten eggs, mix quickly, spread on hot buttered toast.
Ham Sandwiches
Cut bread in thin slices, butter them and lay between each two some nice slices of cold boiled ham. A little mustard spread on the meat, improves it for many.
Brine for Ham
12 lbs. salt, \ lb. salt-petre, 3 qts. molasses, to 6 gals, water. Boil and skim; when cool, pour over the meat. Before packing, take salt, salt-petre and molasses and rub the ends around the bone. This for 100 lbs.
Curing Ham
For curing fifty pounds, allow three quarts of coarse salt, one-half pound of salt-petre, and two quarts good molasses. Add enough soft water to cover the hams. Common sized hams should be kept in this pickle five weeks, larger ones six. They should all be taken out once a week, and those which where on the top laid in first, and the lower ones last. They should be smoked from two to three weeks with walnut wood, or with sawdust and corn cobs mixed. Meat smoked with cobs is very delicate. Pieces of beef for smoking may be laid in this pickle after the hams are sent to the smoke-house, but more salt should be added.