Old Fashioned Poultry Recipes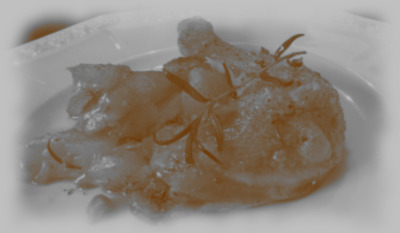 Selecting and Preparing Poultry
Try the wing, and if it is easily disjointed or turned back, the fowl is young; if a turkey, it has also a smooth leg and soft bill, and if fresh, the eyes will be bright and the feet moist. If the fowls are dressed, select by their skin and breast bone. The young ones have a thin and tender skin, and the breast bone yields readily when pressed by the fingers. They should be killed by having the neck cut, and then hung by the legs so that they will bleed freely, in order to make them white and healthy to eat. Scald and pick off the feathers, being careful to remove all the pin-feathers. A pair of tweezers or the point of a dull knife is frequently a great help. Cut the oil-bag out from above the tail, and singe off the hair by holding over a blazing paper, so the fire may reach all parts. Then remove everything from the inside, keeping the gizzard, heart and liver to stew for the gravy. Great care must be used in separating the gall-bag from the liver, if broken,, it renders what it touches unfit to eat. Thoroughly wash and cleanse the fowl. A little soda may be thrown into the water after the first washing, and then rinse in clear water. Cut off the legs at the first joint above the feet, and if to be cut up, the following way is advised, as each piece has a good portion of meat. Cut it open right through the back and so clear through the breast bone, being careful to leave the breast equal on both halves; then, after removing the flier of the wings and the drumsticks, cut each half crosswise into four, five, or six pieces, according to the size of the fowl, being careful so to cut as to leave good meat on each piece.
Roasted Turkey
Prepare according to directions given above. Make a dressing of fine bread crumbs, season with salt and pepper and add sage or such sweet herbs as are preferred. Do not flavor too strongly with any one thing; mix all together and pour over melted butter to moisten it nearly enough, then add a little water. Put salt on the inside of the turkey, and fill the crop and body with the dressing; sew it up with white woolen yarn (for it will not tear the flesh as cotton does), tie the legs and wings close to the body, lay into a dripping-pan, and rub a little salt and butter over it, or lay on two or three slices of salt pork; pour over a tea-cup of water, and place it in the oven. It should be roasted slowly at first, and basted frequently. If desired, oysters can be used in the dressing and sauce. Mix the oysters with the bread, omitting the herbs, and moisten with the liquor of the oyster instead of water. For the gravy, boil the heart, liver and gizzard, till very tender; then chop fine and return to the water in which they were boiled; add oysters and their liquor, also some butter rubbed in flour to thicken the gravy, and season to taste; boil till oysters and flour are cooked, then serve.
Boiled Turkey
Prepare as for roasting. Half a cup of rice boiled with a turkey makes the meat look white, or wrapping it closely in a cloth dredged with flour before putting it to boil will have the same effect. A small piece of salt pork improves the flavor. Oyster sauce is very nice for turkey cooked in this way.
Rewarming Turkey
Pick the meat from the bones, and chop fine; spread a layer of crackers or bread crumbs in the bottom of a buttered dish; moisten with a little milk or water, then put on a layer of turkey, (a little cooked ham minced fine and mixed with it is an improvement), a few bits of butter and the dressing, then another layer of crumbs and so on till near the top, seasoning to taste all the way through, and pouring on the gravy left from the day before, adding water if necessary. The top layer should be crumbs soaked in warm milk and beaten up light with two eggs and spread smoothly over, with bits of butter on the top. Turn a pan or deep plate over this till cooked through, and then remove the cover and let the top brown. You can also cut the pieces that are left, up fine, and warm with the gravy, or make a turkey pie of them.
Roasted Chicken
Having picked and prepared the chicken for cooking, make a stuffing as for a turkey. Rub salt over it and place in dripping pan with pieces of butter laid on the breast ; put in hot water enough to cover the bottom of the pan, and baste frequently, turning the pan so the chicken may roast equally on all sides. When done, take up the chicken and make a gravy by mixing flour with butter, or, if preferred, the fat of the drippings, and adding the giblets, pre\iously boiled and chopped, to the liquor in the dripping-pan. Boil up and serve.
Fricasseed Chicken
The chickens should be cut up according to previous directions;wash and lay in cold salt water for half an hour; put in a pot with the skin side down, with a few slices of salt pork; sprinkle in pepper, and put on just enough water to cover them (hot, not boiling water, is best). Cover and stew slowly till tender, then remove the chicken, and skim the oil from the top of the liquor, if the chickens are fat; take a piece of butter and mix with flour enough to thicken the remainder. Boil till the flour is cooked. Have ready some hot shortcakes or biscuits, split open, and laid on your platter, or toast if preferred. Lay on your chicken and pour gravy over the whole. If the pork does not salt it sufficiently, add salt before taking up the chicken. Old fowls are best cooked in this way.
Broiled Chicken
Cut the chicken into desirable pieces for the table; put it into a stew pan with water sufficient to keep it from scorching, and a very little salt; when it is dry, place the pieces upon a hot, buttered gridiron, over coals; turn frequently to prevent scorching; when done butter and season to the taste. Chicken prepared in this way is tender and juicy.
Broiled Chicken (2)
None but young and tender chickens should be broiled. They should be split down the back, and, after a thorough washing, be wiped dry. Place the chicken, inside downward, on a buttered gridiron. The fire should be clear and bright, with no smoke; cover with a deep plate or pan, and broil till cooked through, turning several times to prevent charring. When done, lay on a heated platter, put on plenty of sweet butter, and season to taste, serving immediately.
Fried Chicken
Season the chicken with salt and pepper, before rolling in flour; have hot, equal proportions of lard and butter jn sufficient quantity to cover it well; let it fry slowly and be sure not to let it burn; when done, take it out, and if gravy is desired pour in a little water or milk, and thicken with flour or corn starch.
Smothered Chicken
Split up the back, and wash thoroughly in two or three waters; put into a pan to bake, and salt it well; add a little pepper if desired; lay a lump of butter on the breast, pour a little water in the pan; a very small piece of red pepper is an improvement. If the chicken is young, cook in a very quick oven till well browned; baste often.
Chicken Pie
Clean and cut the chickens in pieces ready to serve. Boil them in water barely to cover them till cooked nearly enough for the table; skim the water carefully. Some remove the skin if it is very thick. Line a deep dish with a thick paste made like soda or baking powder biscuit, only a little richer; place the pieces of chicken in layers; such as have bones in them should be laid from the center to the edge, to make carving more easy. Put in the hearts and livers, sprinkle each layer with flour, salt and pepper, lay over it a thin slice of salt pork, or a small piece of butter, putting rather more seasoning on the top layer, and pour over all as much of the liquor in which the chickens were boiled as the dish will hold without danger of boiling over. Roll the upper crust twice as thick as for fruit pies, make ai] incision for the steam to pass out, and lay it over the dish, first wetting the under crust with water, so the edge will be closed tightly. Bake in a quick oven till done.
Chicken Pudding
Cut up as for fricassee, and stew slowly in a little water; season well with salt, pepper and butter, unless there is salt pork with it; in about an hour take out the chickens to cool; save the water in which they Avere stewed, for gravy. Take three cups of flour, a little salt, three tablespoonfuls of melted butter, four well beaten eggs and a quart of milk; mix together with two tablespoonfuls of baking powder; put a layer of chicken in the bottom of a baking dish and pour over enough batter to cover the meat, alternate the layers of chicken and batter till the dish is full; let the batter be on the top to form the crust. Bake moderately till done through, and the crust a light brown.
Jellied Chicken
Boil the chicken, till thoroughly done, seasoning with butter, pepper and salt. Then take out and remove all bones and skin, leaving nearly one quart of liquor in the kettle. For one chicken dissolve one half box of Coxe's gelatin in one cup of hot water and pour into the liquor with the chicken; cook a few minutes, then turn into molds and set away to cool. Do not pick the chicken into very fine pieces; it cuts and looks much nicer if left in large pieces. Slice with a sharp knife, and you have a handsome and most palatable dish for your table.
How to Make an Old Fowl Tender
Put one tablespoonful of lemon juice into the water in which it is boiled. Strong vinegar may be used but is not so good. Citric acid is a better substitute a lump the size of a large pea.
Chicken Dressing
Take as much bread as needed, crumb it very fine, season with salt, pepper and sage, to suit the taste; butter the size of an egg, and a- tablespoonful of water; boil two eggs hard, chop fine and mix with bread.
Dress a Prairie Chicken
Lay the chicken on its back, head towards you; with a sharp knife cut the skin through on the breast bone; with the hands pull the skin apart down from off the breast and back, to the point of the breast bone, then cut the meat and ribs off from the back bone by running the knife from the point of the breast bone forward to the wing joints on both sides, and take off the entire breast, then take out each leg by skinning it and disjointing it from the body. The breast and legs of a prairie chicken are all that it is profitable to cook.
Fried Prairie Chicken
Take the legs and breast of a young prairie chicken, let them lie in cold salt and water an hour, or better still, with salt and pepper sprinkled on them over night. Slice the breast in four pieces, roll it and the legs in flour, and lay in hot lard, cover tightly and set where it will steam till nearly done, then remove the cover, and fry a light brown.
Broiled Prairie Chicken
Prepare the chicken as for frying, wipe dry and broil over hot coals; none but the most tender should be broiled, unless first steamed, or parboiled in very little water.
Stewed Prairie Chicken
When chickens are too old to broil or fry, they are nice prepared as follows: After dividing them, put in a pan with sufficient water to just cover them; slice in a good sized onion to about two chickens, a little salt and pepper. Let them stew very slowly for four hours, never allowing them to boil. When done, thicken the liquid with butter rubbed in flour.
Roasted Quail
Pick and clean the quails, then use dressing as for turkey with addition of onion. Put in a dripping pan and bake three-quarters of an hour, basting frequently. They are nice cold, for tea or supper.
Roasted Pigeon
Pick out the pinfeathers, or if too many, pull off the skin; clean the inside thoroughly; soak half an hour in considerable water to take out the blood ; boil half an hour, with a little salt in the water, and take off the scum as fast as it rises; take them out, flour well and place in a dripping pan; strain the water in which they were boiled and put part of it in the pan with a small piece of butter, and baste the pigeons; add pepper as you choose. Roast them nearly two hours.
Roast Duck
Clean and wipe dry your duck; prepare the stuffing thus: chop fine and throw into cold water three good sized onions, cut one large spoonful of sage leaves and mix with bread crumbs and a piece of butter the size of a walnut; drain the onions, and add with a little salt and pepper. Mix these together and stuff the duck well; dredge and baste like a turkey. Cook an ordinary sized duck over an hour. A nice gravy is made by straining the drippings; skim off all the fat, then stir in a spoonful of browned flour and a teaspoon full of mixed mustard. Serve hot. Currant jelly is necessary with duck.
Boiled Duck
Scald and lay them in water a few minutes, then lay them in a dish, pour boiling milk over them, and let them lie in it two or three minutes; take them out, dredge with flour and put them in a saucepan of cold water, cover close and boil twenty minutes; take them out, cover, and set where they will keep warm, and make the sauce as follows : chop a large onion and a bunch of parsley fine and put therein a gill of gravy; add a tablespoonful of lemon juice, a little salt, pepper, and a small piece of butter; stew them half an hour, then lay the ducks into a dish and pour the sauce over them.
Smothered Duck
Pick and dress as turkey, and put in a pot with a pint of water; add salt, pepper and a piece of butter; tie a cloth on the pot, and cover air tight as nearly as possible. Stew slowly for four or five hours.
Roasted Wild Duck
Parboil in water with a little salt, placing an onion in each duck to absorb the fishy taste that some ducks have; if onion is not agreeable, a carrot is said to answer the same purpose. When boiled, take the duck and stuff as you would turkey, except that onion seems to be necessary. Roast till brown and tender, basting with butter and water at first, then with the drippings. Make a gravy by taking off the superfluous fat and thickening with browned flour.