Vintage Soups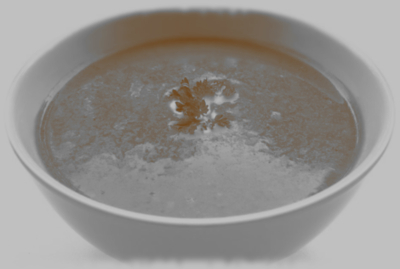 Bean Soup
Soak one pint of beans in cold water over night. Boil till tender,then mash and strain them through a colander. Boil themup in two quarts of meat broth, and season to taste.
Bean Soup (2)
After breakfast, put one coffee-cup of beans into four quarts of water, with the trimmings from your breakfast steak, or other bits of meat. Let it boil constantly until dinner, adding water if necessary. Season with salt and pepper, and when done, strain into the soup tureen through a colander, and you have a delicious soup with very little expense.
Beef Soup
Take a shank bone, wash nicely, and, after breaking it in several places, put it into a pot of cold water, without salt. Let it boil slowly, and take off the scum as it rises. When it has boiled half an hour, add one cup of pearl barley, and boil two and a half or three hours. Half an hour before taking it up, have three or four good sized potatoes pared and sliced an eighth of an inch thick, and put them in to boil.. Add salt and pepper to taste. If the soup is too rich, skim the fat from the top before putting on the table.
Cauliflower Soup
Pick all the little green leaves from the cauliflower, and put it into boiling water; after a minute or two the water should be poured off, meat soup poured on, and boiled together with parsley and carrots in a tightly covered pot until nearly soft. Sprinkle a spoonful of flour over it, shaking the pot, but not stirring it,as that will break the cauliflower, which should be avoided, Pour as much more meat soup over it as is desired, and boil until all is soft. When ready to serve, take the yolks of two or three eggs,beat them well in the soup tureen, and pour the soup slowly over them, stirring continually. Small pieces of white bread, fried in butter, may be added just before serving.
Chicken Soup
Old fowls are best for making soup. Cut up as for frying; boil gently in three quarts of water till the meat is well cooked; skim carefully. Add a teacupful of rice, and season to taste. Some prefer to add sweet milk or cream. Pick the meat carefully from the bones and serve with the soup, or make into salad.
Chicken & Oyster Soup
Cut up a full-grown fowl as for frying. Clean the giblets nicely, and put all in the soup kettle, with just enough water to cover them; let it simmer gently; remove all the scum. When the chicken is tender, take it up, strain the liquor, and return it to the kettle. Use a quart of sweet milk to a quart of broth; add boiling water if necessary. Add a quart of oysters with their juice, and two or three blades of mace, a tablespoonful of butter, one of wheat flour rubbed into the butter, and one gill of hot cream; stew gently five minutes. Cream must always be boiled before being put into soup or gravy. Use the chicken for salad.
Common Meat Soup
Boil four pounds of beef in salt water until it is soft. Care must be taken to use enough water in the beginning, but if more is necessary never add cold, but boiling, water. (This is a rule with every kind of soup.) If the soup is too weak, take out the meat and boil it down. If a few roots, such as carrots, celeriac, etc., are added, it will make a very palatable soup.
Corn Soup
Take one dozen ears of green corn, and shave the corn from the cobs. Put the cobs into a gallon of cold water, and boil 30 minutes, after which remove them and skim the water thoroughly. Chop or bruise the corn, and boil it 30 minutes in the same water. Then add two quarts of fresh milk, and season with butter, pepper and salt to taste. Let it boil up and serve.
Dumplings for Soup
One-half pint of sweet milk, two tablespoonfuls of butter; when scalding hot, stir in flour until stiff; three eggs.
Egg & Barley Soup
Take three dry rolls, grate them, beat two eggs into them, stir well together, and pour slowly into the boiling meat soup, stirring continually. It will have the appearance of barley. After boiling a short time, serve with a little grated nutmeg.
Mock Turtle Soup
Take the head and two feet, of a calf, that have been carefully cleaned. Separate the jaws and remove the brains. Place the meat in cold water, let it heat slowly, and skim with care. When it is done, take it up, and set it away until the next day. Then skim off the fat, pick the meat from the bones, and chop fine; put the liquor and part of the meat in the pot. Tie, in a thin muslin cloth, a few grains of allspice, bruised slightly, and a dozen cloves; add to the soup, also, a grated nutmeg; this is spice enough for half a gallon of soup. Salt and pepper to taste. Stir frequently to prevent the meat from burning. Half an hour before the soup is done, one tablespoonful of batter, made with water and browned flour, should be added for each gallon; force-meat balls may also be added, if desired. Fifteen minutes before sending to the table, add half a gill of good catsup to each quart of soup. To each gallon, add two tablespoonfuls of lemon juice. The yolks of eight hard-boiled eggs, sliced, should be put into the soup after it is poured into the tureen. This soup may be made equally good with a shank of veal or beef. A little butter and cooked Irish potatoes added to the remaining meat and laid in pie-crust, make a good mock turtle pie.
Meatballs
Chop half a pound of lean veal, or other meat, fine, together with a little raw salt pork; add a small tea-cup of bread crumbs, moistened with cream. Season with salt, pepper, curry powder or cloves. Work all together with a well-beaten egg. If the paste is too stiff, add another egg., or only the yolk, or a little more cream. If not stiff enough, they will fall to pieces. Make into balls, the size of half an egg and boil part in the soup, fifteen minutes. Fry the remainder in hot lard and serve up in a separate dish.
Meatless Soup
Peel and slice six onions, six potatoes, six carrots, and four turnips; fry them in a half a pound of butter and pour on four quarts of boiling water. Toast a crust of bread as brown and hard as possible, but do not burn it, and put it in with some celery, sweet herbs, pepper and salt; stew it all gently for four hours, and strain through a coarse cloth. If desired, an anchovy and a spoonful of catsup may be used.
Okra or Gumbo Soup
Cut up a chicken and a small piece of salt pork as if to fry; take two quarts of young and tender okra, slice it, and put into a pot with the meat, with just cold water enough to cover it, and stew for an hour. Then add one quart of ripe tomatoes sliced, and two or more quarts of boiling water. Cover closely, and skim frequently. Boil till the meat and vegetables fall to pieces, then add butter, pepper and salt to taste; serve hot. This is a southern dish, but okra is raised in this latitude.
Oyster Soup
To one quart of sweet milk and one pint of boiling water, add the liquor from one quart of oysters. Boil this up together, then add the oysters and half a teacupful of cracker crumbs rolled fine. Add butter, salt and pepper to taste. Much boiling hardens the oysters. Serve with hot toast and crackers.
Pea Soup
If dry peas are used, soak them over night in a warm place, using a quart of water to each quart of the peas. Early next morning, boil them an hour, putting in a teaspoonful of soda, a few minutes before removing them from the fire. Take them up, put them into fresh water, and boil them until tender (3 or 4 hours);boil with them a pound of salt pork; it should be taken up as soon as tender. Other meat can be used if preferred, and the soup seasoned to taste. Green peas need no soaking, and only an hour's boiling.
Pea Soup (2)
Mix two quarts of green peas with a quarter of a pound of lean ham, cut into small dice; put into a stew pan, add a cup of cold water, and place over a sharp fire, stirring the contents occasionally when very tender, add two tablespoonfuls of flour, which mix well in, mashing the peas with your spoon against the sides of your stew pan. Add two quarts of stock (meat broth), a tablespoonful of sugar, and a little pepper and salt. Boil all well together five minutes. Strain and serve.
Pea Soup (3)
Shell the peas, and boil the pods and peas in separate vessels. If you have no stock (meat broth), add a little fresh meat, or a slice of ham to the water in which the pods are boiled. "When the pods are thoroughly boiled strain the water through a colander; return the liquor to the pot, and add the peas a quarter of an hour before serving. Butter and season to suit the taste. Pour over crackers if desired.
Potato Soup
Peel four or five good sized potatoes, and boil in two quarts of water. When boiled soft, pour off the water, mash the potatoes fine and return them to the water. Take a piece of butter about the size of an egg, fry it with two tablespoonfuls of flour (and, if desired, an onion), till brown. Then add it to the soup, with salt and pepper to taste.
Potato Soup (2)
Peel and slice three potatoes; boil them in two quarts of water till nearly done, then add one teacup of milk. Pepper, salt and butter to taste. Just before removing from the fire, pour in one cup of sweet cream.
Scotch Broth
Take the chops from a neck of mutton; cut the remainder into small pieces and let it stew gently the Avhole day. Boil a quarter of a pint of pearl barley in a little water, until tender; strain it dry. Chop fine two large onions and turnips and put with the barley and meat into a close stew-pan; strain the broth into it, also the water from the barley; let it boil one hour and a half and skim well. Season it only with salt and pepper.
Tomato Soup
Take beef broth and add tomatoes to suit the taste, (having previously cooked, mashed, and strained them very fine), a little pepper, sugar, and two tablespoonfuls of flour, or pulverized crackers. Boil ten minutes and then serve.
Tomato Soup (2)
Take six peeled tomatoes of medium size, with one pint of water, cook thoroughly, season with butter, pepper and salt. At the last, add one quart of sweet milk, let it come to a boil, and take it up at once, or the milk will curdle.
Vegetable Soup
Different kinds of vegetables, such as carrots, turnips, etc., are cut into small pieces and boiled soft in meat soup. Then take a head of Savoy cabbage; clean, cut it into quarters, boil soft in water, press it out or drain the water off, then put into the soup. Brown meat soup is best. When all is sufficiently soft, pour as much soup over it as is necessary to make the desired quantity. Toast slices of fine white bread or stale rolls, and put into it. Before serving, grate nutmeg over it.