Vintage Yeast Recipes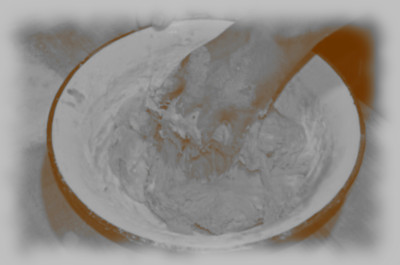 Jug Yeast
Peel twelve potatoes and boil in one gallon of water, with three large handfuls of hops thrown in loose. When done, mash potatoes through a colander; then lay a towel in the colander, and strain the hops; add one-half cup of brown sugar, one-half cup of molasses, one-half cup of salt. When cool enough, put in one pint of yeast, and let it stand twenty-four hours before using; then pour into a jug, cork tight, keep in a cool place, and always shake well before using.
Jug Yeast (2)
Four large potatoes, one large handful of hops, in a bag, one large spoon of sugar, one large spoon of flour, one quart of water. Boil hops and potatoes till potatoes are done; then squeeze out hop-bag, mash potatoes, and add sugar and flour. When cool enough, put in a cup of good yeast. Keep in a cool place.
Dry Yeast
Twelve good sized potatoes, one pint of hops, one gallon of water, one tea-cup of dry yeast, soaked; stir in a little flour and let rise. Wash the potatoes clean, and boil without peeling; boil the hops with the potatoes, loose. When the potatoes are done, peel and mash; mix with a pint of flour; strain the water from the hops into it; when cool, stir in the yeast and let rise twenty-four hours; then mix with Indian meal, roll out, and cut it into cakes to dry.
An Unfailing Yeast
Put a handful of hops into a bag and drop it into two quarts of boiling water; while steeping, wash, peel and grate six medium sized potatoes; take out the hops, put in the potatoes and boil a few minutes, stirring continually; add a half teacup of white or light brown sugar, the same of salt. When cool, stir in a teacup of yeast; let it rise till it becomes a mass of foam, then stir down and jug it tight.
Yeast
One large handful of hops, one dozen potatoes, one cup of sugar, one-half cup of salt, one tablespoonful of ginger. Mash the potatoes in the water in which they are boiled, and pour into a jar; add the sugar, salt and ginger; steep the hops till the strength is gone, and add the water to this mixture till you have one gallon. When cooled to blood heat, add one cup of the same yeast. Keep warm from six to eight hours. When light, bottle and set in the cellar.
Yeast (2)
A double handful of hops (in a thin bag), one quart of boiling water, one quart of potatoes cut in small pieces. Boil the potatoes with the hops until thoroughly done, keeping them covered tight all the time. Take the potatoes out and mash well, then pour the boiling hop water over them; add two tablespoons of sugar, two of ginger, one of salt; let it stand until just warm, and add one teacup of yeast, or more. It will keep two weeks in summer and two months in winter.